It's still hard to believe that a whole country would shoot itself in both feet economically on purpose. Oh well, books over there are on sale now at about 11% off Thursday's peak and about 15% off where the pound was a year ago:
Update, 6 July 2016: Unlike the US stock market, the pound is not recovering. It continues to drop and is now almost 14% off of its recent peak less than a week ago.
Update 27 August 2016, showing long-term decline, sharp Brexit drop, and sustained low value.
Update 6 October 2016: Renewed action on Brexit takes the pound to new lows.
Wow — one day later, renewed Brexit talk has really shaken the pound again. Here is the one-month graph, followed by the one-year graph: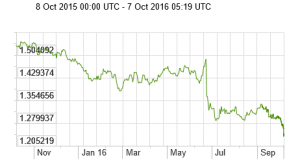 Update 8 October 2016. Good article in the New York Times today explaining the "hard Brexit." Another reminder (as if we need one, given Trump and the Colombian vote against peace) that the voter is not always right. Here is the dollar/pound exchange rate over the past month:
Update 4 November 2016. As soon as it was ruled that parliament would have to vote for Brexit to actually occur, the market reacted quite positively (because there is a new chance that it won't happen). Great real-world experiment in the economic damages of isolationism in a global economy:
Update 16 Jan 2017: Brexit continues to keep the value of the pound depressed.