The conductor bellowed out the bus's destination for Guatemala City, trying, through sheer volume and enthusiasm, to lure a few more passengers aboard before the gaudily painted vehicle roared out of town on a cloud of diesel exhaust. The ambient noise and bustle did make shouting required, and with the noxious exhaust clouds people weren't hanging around in this place for fun, but nobody was tempted aboard this time, so the guy(1) swung aboard as the driver pulled the bus away on its journey along winding mountain roads.
Last year the National Science Foundation (NSF) changed proposal requirements in the Division of Environmental Biology (DEB), where we often submit proposals. The new procedure was to submit pre-proposals with a deadline in mid-January. Of course that meant that the entire holiday season was devoted to intensive writing, striving to generate short proposals that were tight enough to cut and sweet enough to charm the most world-weary reviewer. We were limited to just two pre-proposals as principle investigator or co-investigator, but I was working with another group as a third wheel, "senior personnel," someone with no budgetary authority but who was considered necessary to get a good project funded and moving forward. So I was juggling three proposals right up to the deadline and was totally exhausted once they were in. And then teaching began again and I felt like I'd been swindled out of a break. By May I was downright cranky.
So as last fall approached and we looked ahead to another holiday season liberally soaked in cheer by this NSF deadline, Rose suggested that we schedule a break. It sounded good at the time, but it took us awhile to come up with a place that we wanted to see that wasn't too far away to make the travel painful. Crossing the International Date Line coming back east just slams me every time, so we couldn't skip out to SE Asia and return ready to teach. And we weren't ready yet to go back to visit places we'd already been. Oaxaca, Mexico is a favorite destination, but we'd been there recently enough that a return did not offer a sufficiently new exploring opportunity. So eventually we chose Guatemala, a country we hadn't been to yet, and Rose researched the lodging options, made reservations, and purchased tickets. About a day after we'd locked in the tickets, NSF extended the deadline by a week. Aargh. I let my colleagues know I still had to aim at the 16th because by god I was taking a damned vacation.
Burning the candle at both ends and pushing right up to the deadline, we got those proposals submitted. Rose and I had squeezed the vacation in so that we left right after the proposals were in and returned the day before I had to teach. Note for next time: Leave at least a 24-hr decompression time after an NSF deadline. There is something about meeting tough proposal deadlines that wrings out every drop of physical and mental energy. You really shouldn't pack and travel to an overseas destination within 24 hours of such an effort. We had a long layover in Seattle, during which we had the opportunity to visit with John Klicka at the Burke Museum. It was great to see him and catch up with the many changes that had occurred since we'd last seen each other. John recently relocated from the University of Nevada Las Vegas to the University of Washington, a victim of the economic downturn, but professionally landing on his feet.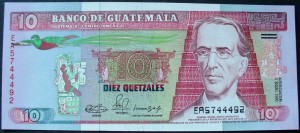 From Seattle we took a red eye to Miami, then a direct flight to Guatemala City. Arriving in a new country can be downright fun, especially when you change money into quetzales. A country with birds for money has to be good. Outside of the airport, we found the exchange rate to be 7.7 quetzales per dollar. We did not have far to go—Rose had booked us into the Hotel Pan American, a wonderful old hotel in the historic district in the Old City. This hotel was built by Pan American Airlines in 1942, and it has a regal charm that takes you back to another era. Our room had a small balcony overlooking the pedestrian-only street, Avenida Sexta, along the side of the hotel. While we stayed here, it seemed that during the day there was almost always live music being played, either by the hotel's marimba band or by musicians in the street.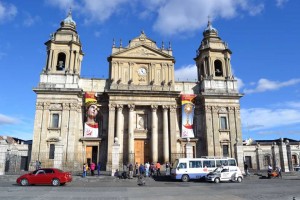 Outside, we found that a rather happy, busy air permeated the neighborhood. There were noticeably fewer old buildings than in Mexico City, but we learned that this was probably due to the major earthquakes of 1917 and 1918. There was also a big one in 1976 that killed 23,000 people.
The hotel restaurant was good, which was a plus, because there were not a lot of places in this neighborhood to eat in the evening. We were also surprised that there was so little small commerce going on in the main square. The National Museum of History turned out to be a bit of a disappointment. Most of the documents on display were reproductions, and very little of national-treasure quality was present. There were an excessive number of rather poor oil paintings of old generals and politicians. Very few women were represented. The earthquakes of 1917 and 1918 apparently did tremendous damage; some of the 16th and 17th century stonework was on display, cracked. There was an interesting lower level with very low ceilings and doorways—I thought of them as the catacombs.
The main market was quite enjoyable. We strolled through the fruits, vegetables, and meats areas before stopping for lunch at a comedor. After lunch we went to the Palacio Nacional de Cultura, where a guided tour showed us the highlights. It is a gorgeous building, and our tour guide was excellent. Overall, it was a very clean, underlit piece of opulence on display—all built since about 1940.
I was somewhat surprised to see that a large map dated 1955 was on prominent display portraying Belize as part of Guatemala. Earlier, in the National Museum of History, I'd noticed a similar depiction on a map dated 1979. I had heard from Don Owen-Lewis in Belize during field work there over the years that there were border tensions with Guatemala, and that Guatemalans seemed to feel rather free in coming over and harvesting things like iguanas in large numbers. Apparently Guatemala has now backed off on its claims of Belize, but there are still tensions between the two countries that they are trying to work out peacefully.
Next day, we went back to the market to see the parts we'd missed the day before. There is something about markets that draws us like magnets. It's a hard thing to describe why. People are bustling all over, and if you stop you think you are in the way, but here people were very polite and engaging. All around there were heaps of interesting things to see, piles of fruits and vegetables—riotous colors here—then meats, fishes, housewares, soaps, shoes, clothing, hats, bags, carved wooden implements, plasticware, ironware, leather, baskets, blankets, crafts, and seemingly hundreds of dried things, from herbs and peppers to fish and beans. At the fresh fish stalls they demonstrated the freshness of their whole fish by opening up a gill slit with a finger to show how red the gills still were. The lower level had small craft shops jammed in cheek by jowl. It was fun to browse through them, too. We picked up a couple of things that we couldn't live without, including a pair of small paintings, one of a quetzal.
Over the years, I had heard many unflattering things about Guatemala, mostly to do with unsafe conditions for foreign travelers and a government and an army that were out of control. Much of this may have been due to the long civil war (1960-1996). Regardless, we experienced nothing but pleasant people throughout or trip. Guatemala City was quite different from Mexico City, not just in architecture, but there also seemed to be much less edginess and less harsh commercialism. It was in fact different from anywhere we'd been in Mexico. The atmosphere and personalities (less jaded?) were different, and there were fewer beggars and kids selling junk, remarkably few sidewalk cafes or restaurants, and a lot more street shows. Along Avenida Sexta there was a different performance on every block, with buskers and musicians expertly working the crowds. They had the most amazing living statues as well, including someone we named Tree Man who set up his platform right across from our hotel balcony. The square itself was rather devoid of food, entertainment, or vendors until Sunday, when it was positively jumping. We didn't get much exposure to that, though, because it was a travel day and we had to leave. We headed out for Antigua Guatemala at 12:55 p.m. in an old car driven by an old man. He drove like an old lady, slowly, and pumping the pedal. The transmission had a hard time shifting, and the car didn't have much oomph, but we made it.
Antigua
Antigua Guatemala had been the capital of the country until earthquakes destroyed it in 1773. The capital was then moved to Guatemala City, and Antigua was left largely in architectural stasis. It is a richly beautiful colonial city that has well withstood the passage of time. The colonial-era architecture was retained purposefully, with later building restrictions that have kept the old city's charm. Antigua is also a UNESCO World Heritage Site. Tourism is a staple of the local economy, not only because of the beauty of the city but also surely because of its wonderful people. While there are many visitors, the residents themselves have not become greedy and hardened. And there is considerable turnover of Guatemalans, too, because Antigua is the capital of the Departamento de Sacatepéquez, a small mountain state and one of 22 departments (you might think of them as states) in Guatemala.
We stayed at Chez Daniel and were graciously greeted by Marleni, who showed us to our spacious and well-appointed room. Both the rooms and the bathrooms are huge and airy, with high ceilings and nice woodwork and furniture. Daniel Chauche is a professional photographer, and the walls were hung with large prints of his work. But of course the real attraction is the town itself, and we were a ten-minute walk from the heart of it all. We went out in search of a late lunch, and we found it at the Cafe Condesa with a delicious plate of fruit and another of guacamole with garlic toast. Served in a tranquil garden with a fountain, it was delicious.
Many of the churches here are broken-down ruins, but "the a-hole guide," as we called our travel guidebook, told us none of the history. (How we wound up with a crummy book is itself a story on traveling—we were sure we'd bought a good one, but we couldn't find it in the week before leaving, so we snatched up the only one in town, forever biasing us against "Open Road" summaries of interesting destinations. This guide did, however, get us to the restaurant without a name across from La Merced, not on the corner, which we did enjoy although it was very crowded.)
We arrived on Sunday afternoon, and everyone was out, including of course a substantial number of tourists. But Guatemalan life was out in force, too, including a very popular marimba band on the square, which drew more Guatemalans than tourists. Two older native women danced together as the band played on. And on 5th avenue north, up near the arch, a native band with dancing boys was joined by a young kid from the audience of maybe five or six who was very charming, especially when the dancing native boys gave him his own maraca to shake.
We strolled around looking through a lot of small shops admiring the variety of things for sale, not buying anything but just enjoying it all. The Nim Po't native crafts gallery was quite impressive. It provides a good cross-section of the crafts available in town, including an entire large wall with huipiles labeled with their areas of origin. A huipil is a hand-embroidered tunic, and they have distinct and gorgeous regional styles. As evening approached we found a small family restaurant for dinner, where we had another version of chicken pepian, a special national dish with a thick sauce made of toasted seeds (pumpkin being one), chiles, cinnamon, tomato, and other various ingredients. We enjoyed trying this dish several times on our trip, because it was good and varied quite a bit among restaurants.
Volcán de Agua rises up on the south side of town, and in the morning before clouds form you can have a nice view of its forested slopes. It has not always been so tranquil and benign, however. In 1541, a lahar, or mud flow, from the volcano's slopes destroyed Ciudad Vieja, the second capital of Guatemala, causing the then-new capital to be situated at Antigua. As clouds began to form and obscure the peak of the volcano, we headed into the market to see it on market day. The displays of fresh fruits and vegetables were phenomenal. We saw so much fun stuff, but I didn't take a single picture. I mentioned to Rose that I wished I had a way to inconspicuously record what I was seeing. You feel guilty walking around taking pictures of people living life when you are not there living it in person with them, but instead prioritizing the capture of a poor simulation through your lense. But the people were very polite and it seemed less brusque than in some of the markets we've been to in other countries.
From the mercado we went to the Mercado de Artesanias, arriving later in the morning after most of their small shops had opened. We found a small painting of an Antigua street that we liked. Upon purchasing it, the proprietor said that it was done by his little brother—that there were four artists in the family and they produced his stock. Who knows? At another shop I found a carved wooden mask that I liked. From there we went to visit a nursery and admired the beauty and astonishing variety of plants one could purchase here for landscaping and gardening. Reveling in such splendid plant life (and in the fruits and vegetables in the market) and enjoying a meal in the garden cafe was a great break from the depths of winter back home. On the way back to downtown we accomplished two important tasks (an ATM for cash and a quick email flurry) before heading back to the Cafe Condesa for a snack, once again enjoying a plate of sliced fruits (papaya, cantaloupe, banana, watermelon, pineapple, and mulberries) and guacamole and toasted garlic bread with sliced tomatoes and onions. We learned later that Guatemalans are sometimes known as panchas verdes (green bellies) because of their fondness for avocados. In this respect we certainly found our inner Guatemalan.
For dinner this evening we went to Hector's, the place the a-hole guidebook described as the no-name restaurant; Marleni had recommended it, too. It is very small and very popular. We and the couple behind us got the last two tiny tables. More people poured in and either left or chose to wait outside with a glass of wine for a table to eventually empty. Our first dish was tomato slices roasted with olive oil, balsamic vinegar, white cheese, and fresh basil, which we placed on slices of fresh bread from a small loaf served with it. One of the fun things about traveling is finding new dishes that are simple and excellent and easy to make at home. This was one of those.
Lago de Atitlán
Our next day was another travel day—off to Santiago Atitlán, a small village on the shores of Lake Atitlan. But we didn't leave until late morning, so we had time for a pleasant walk around town again. The ever-changing light makes the street scenes variable enough to want to keep taking photographs, and I also wanted a photo record of the wall of huipiles at Nim Po't. We slowly reached that place and then searched through their goods one last time. I found a huipil that I really liked with a lot of fanciful bird embroidery on a base of fabric of woven cotton. To my surprise and humor, it was from Santiago de Atitlán, our destination of today. But I liked it and bought it anyway, not willing to wait to see if maybe I could find one that I liked better there (a good choice). And we strolled on home to catch a ride with our driver for the day, Arturo.
We had engaged Arturo at Marleni's suggestion and had arranged with him to take us via the Mayan ruins of Iximche. Arturo was a font of information, and right away he answered one of my unasked questions about fuel prices. I'd seen prices of Q32-33, but that seemed insane for a liter of gas, and it was. For some reason they sell gasoline here by the gallon. And, while Guatemala produces oil, they have no refineries, so there are many different brands of gas and gas stations. The prices tend to be very similar, except, apparently, as one approaches the Mexican border, when the price influences of that neighboring country become felt. We talked about a town that made boots mostly for export as we drove through it. Then we spoke of vehicles, brickmaking, and agriculture as we drove through the country. On vehicles, none are made here; all are imported. The strangest import to us was the little three-wheeled taxis, like the motorcycle-based ones in the Philippines except that these are integral units. They are imported from India and are called tuk-tuks. On agriculture, we found the variety to be really high. The climate is good, and the crops I recognized were broccoli, cabbage, tomatoes, corn, coffee, onions, and avocados, but there were others, too, several of which were unfamiliar to me. Rose and I agreed that the highlight of the day was to get out into the country and see the fields and landscape.
At Iximche we found ruins of a moderate stature but quite interesting. The coolest thing there to me, though, was a huge old pine tree being used as an Acorn Woodpecker (Melanerpes formicivorus) granary. Thousands of acorns were stored in individual holes bored into the trunk of this tree. Nearby we were able to watch the family of birds who kept up this enormous food depot and who would defend it as the core of their territory. I'd never seen one before. The next-coolest thing we saw was a Maya ceremony in progress at an important site just off of the ruins. There were small fires, offerings, several shamen doing a ceremony over a young boy as his family watched, and a big pot of chicken soup waiting for all when it was over. Ever feel nervous walking through a church as a tourist while people are worshiping? Arturo and the people here were so gracious that any pre-loaded guilt was dispersed by I don't know exactly what, perhaps mutual recognition of the importance of the place and the tranquil beauty of the day.
Once we left the main road and turned off to go into the Lago de Atitlán area the road began a seriously winding path into the heart of the volcanic region. The lake itself is at an elevation of 1,700 m (about 5,600 ft). It occupies an old caldera and has three volcanoes along its southern side: Atitlán, San Pedro, and Tolimán. The lake was once host to an endemic bird, the Atitlán Grebe (Podilymbus gigas), which went extinct at least in part due to an effort to increase tourism to the region. To attract foreign anglers, smallmouth and largemouth bass (Micropterus dolomieu and M. salmoides) were introduced to the lake in the late 1950s and early 1960s and did rather well, but they apparently outcompeted the grebe for food, and the birds' population declined. Then, the major earthquake of 1976 (which killed so many Guatemalans) caused a crack to open in the lakebed and its level fell by two meters in a month. This was the last straw for the grebes, and the last two were seen in 1989.
This region and the lake are really beautiful. It reminded me a lot of the Sierra de Los Tuxtlas and Lago de Catemaco in southern Veracruz, Mexico, only here it is higher in elevation and much larger. If I had been here first, I would have likened Los Tuxtlas to Atitlán. We were staying at the Pasado de Santiago, just outside of Santiago de Atitlán. After checking in and dropping our stuff we went straight down to the lake, where we spent the rest of the afternoon lounging and enjoying the view and the weather. As it got dark we wandered up to the restaurant for a delicious dinner and eventually strolled to our bungalow under a shining moon for a good night's sleep.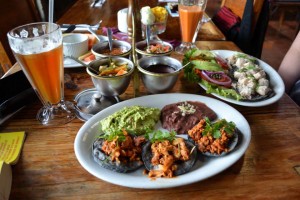 We spent the next day in a rare activity—just relaxing. The grounds of the hotel offered a perfect environment for this, with reading and watching scenery by the lake and pool, a hot tub and cooling off in the pool afterwards, a cold beer in the afternoon under a palapa in the shade, and the nearby hotel restaurant, which served excellent food both in flavor and presentation. Fresh ginger beer for lunch—wow. Out on the lake, fishermen in small boats cast their nets, which was as fun to watch as the bird life. And the profusion of flowers all around was spectacular.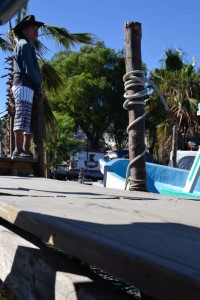 The next day we got up early to catch a boat to Panajachel, where we anticipated seeing more of the region's people and handicrafts. We caught a tuk-tuk to the public dock in Santiago de Atitlán and were soon aboard the next public transport leaving. The indigenous people tend to dress in very colorful clothing, which is why huipiles are so varied and attractive. We were reminded of this as we waited when a local man came and stood on the dock nearby in a cowboy hat and traditional embroidered pants, the embroidery being a cacophony of fantastical birds.
It took half an hour before the vessel was sufficiently loaded for the captain to deem it time to head across the lake for Panajachel. The trip itself was another half hour, then we were off in a new town. We wandered around aimlessly toward the town's center. The a-hole guidebook was not clear on where the main tourist shopping street was, but we needed a cash machine anyway and so just enjoyed walking. Along the way we stopped and went through the market—small, friendly, and with nothing that we were looking for but enjoyable, as usual. Once we had found a bank and made its cash machine work, we found the big shopping street and took off in a slow perambulation of the many crafts shops it hosts.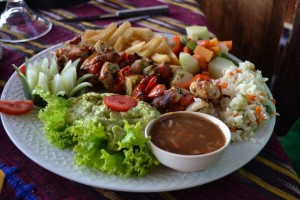 We walked by a lot of nice things, slowly focusing on a few that we really liked. Textiles, all. At about noon we were weighing whether to go eat and return, or to go back and pick up the things we'd set our eyes on. Not knowing how far it was to the lakefront restaurants (we'd taken a long, looping route in through town), we decided to go back and bargain and buy. That sure was fun. We'd liked several colorful items, and an assertive native woman with a mighty pile of textiles on her head and over her arms really put the moves on me, and, it took awhile, but it turned out that there was one more piece that I just couldn't live without. She left with a happy smile, and I had an unanticipated embroidered piece to add to our bags. We eventually did make it to a scenic lakeside restaurant for delicious lunch of soup, guacamole, and pinchos—shish-kebabs of chicken, onion, tomato, and peppers. Excellent. Wonderfully prepared and presented. With a couple of cold beers and the spectacular view across the lake it was exquisite. As we enjoyed the food and ambiance, we naturally talked about the things we had purchased and other things we'd seen that were waxing more wonderful in hindsight.
A couple of hand-embroidered, bird-ridden pieces especially warranted a second look, so we strolled back down the street of shops to find them. The proprietor dressed traditionally, in a rather plain shirt, cotton pants to mid-calf with a lot of embroidery up from the bases of the legs, loafer-style, patent leather shoes, a sash belt with the ends hanging down in front, and a plastic woven cowboy hat on his head. We went through a long process of figuring out what I liked and what his best price was. The birds on these pieces and most all we saw were stylized, generally unrecognizable to species except for the various quetzal-styled workings. It turned out that I didn't have enough cash left, but there was a machine close by and I soon returned to complete our deal and bid the bird man goodbye.
We headed back to the launches and were soon back in Santiago de Atitlán in a tuk-tuk headed for the hotel. Although rain clouds were threatening, we'd gotten back dry. But as soon as we were in our room, a lightning bolt struck nearby and the rain came down in torrents. We put on our swimming suits and waited at least until the lightning stopped before heading down to the hot tub by the lake. The attendant seemed bemused to see anyone crazy enough to go swimming, but the hot tub was visibly steaming as we stripped down in the rain and piled in. We had a lot of fun sitting there in a light rain, up to our ears in hot water joking and watching birds and fishermen on the lake. It was great. Finally, after about 45 minutes, our bodies were too hot to stand it anymore and we went back up, got into dry clothes, and enjoyed a wonderful dinner. Ahhh.
Our sedan from Santiago de Atitlán arrived on time and picked us up in front of the Posada de Santiago, and we had a smooth, three-hour ride back to Chez Daniel in Antigua for our last night in Guatemala. Antigua was a better staging ground for the airport. Our driver's name was Juan, and he was a safe and careful driver. He has three kids, and he sends them to the private school run by the evangelicals because he considers that the education there is much better than at the public schools. Our drive out from the Atitlán area showed us more of the importance of the local coffee growers, with an interesting aroma from where the beans were hulled and periodic weighing stations, slanted poles braced for the hanging of scales and bags. We took a different route back to Antigua, dipping into the hot and steamy lowlands, where sugar cane was the main crop. It was great to see the cane harvest wagons headed to the sugar mill and to smell the sweet smoke of the burning cane.
Back at Chez Daniel, Marleni showed us to our wonderful room, where we dropped our stuff before heading into town for the rest of the afternoon and evening. We enjoyed strolling around and continuing our explorations, having a late lunch snack at Cafe Condesa again and going to Nim Po't one last time to pick up a few small items. We eventually stopped at a small, nondescript restaurant for dinner and had some tasty grilled chicken. They served a nice green salsa with it that seemed to be a liquid yoghurt pureed with jalapeños and possibly cucumber, with lime juice and salt.
We stopped along the way back to our room for a couple of cold beers. The tienda where we stopped was one that we had passed every evening here, and it always had two native girls making fresh tortillas. They would pat one out, hand-to-hand, toss it onto the big flat iron griddle to cook, clap once with hands empty, then grab another dollop of masa and begin patting/clapping out the next one. We thought of them as the patty-cake girls for all the clapping going on. Tortillas in Guatemala are smaller and thicker than in Mexico. They are usually about four inches in diameter. We never did have a flour one; they were all corn—blue, white, or yellow. The flavor is great.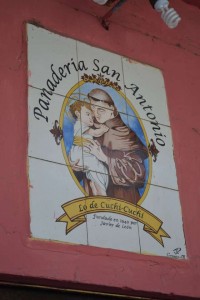 The next morning we had time for a stroll through town before our departure, and we spent it watching people, going through the market, taking pictures, and picking up chocolate. Daniel had recommended the chocolate that they obtained at the Cuchi Cuchi shop, where the girls seemed especially happy to serve us as we picked up three packets of the hard cakes—they make wonderful hot chocolate. Back at the hotel we packed well before loading up for a trip to the airport.
Check-in was funny. We'd talked about coming back through Houston instead of Miami, so we went and stood in line at the first Houston sign we saw. When we reached the clerk we found a really polite guy who very diplomatically read our tickets to us and explained that we were going to Dallas/Fort Worth on American, not United. Gosh, how absent minded—maybe at last I am the perfect professor. So another human line, another airline, and soon enough we were shopping for some last-minute knick-knacks to use up our few remaining quetzales. Successful with that, we got in another human line to go out through Imigracion then another to go through security. In the latter line, a boy of about 12 suddenly dashed out of line for a big wastebasket nearby and proceeded to ralph all over the area that it was in, without apparently getting any of the vomit actually into the receptacle. Then he repeated the exercise. Poor kid.
Our flight took us out over the Yucatan Peninsula, almost directly over Campeche on a beautiful sunny day with occasional puffy clouds. To my surprise, we also passed over one of the offshore cayos, too—a small, isolated island on the peninsular shelf—before we passed along to the deeper waters of the Gulf of Mexico. In the Dallas airport we went to claim our checked bag before going through customs, and to our delight we saw a four-legged cane standing all alone in the waiting area, festooned with luggage claim tickets and patiently waiting for its owner to embark on the next adventure. There's a destiny one can aspire to.
It was a long ride back home. We arrived in Fairbanks in a cold snap (it was about -35 F) dressed in light clothes and our raincoats. The cab ride home was warm, but the driver got stuck in the driveway, so there was some very cold pushing and maneuvering when we arrived at 3:00 a.m. In the ensuing weeks we saw a lot more temperatures in the negative double digits, and as the busy semester ensued my mind kept going back to the guy in Antigua shouting for bus passengers, "¡Guate, Guate, Guate!" I was ready to climb aboard.
(1) The name that people call the guy who rides by the door, collects money, stows baggage, and helps passengers on and off the bus varies by country. I learned "conductor" in Belize, forgot what I learned in Mexico, and have had helpful names supplied by friends of cobrador and boletero for these guys from Mexico to Peru.